ESPRIT HERBAL ENERGY CAPSULES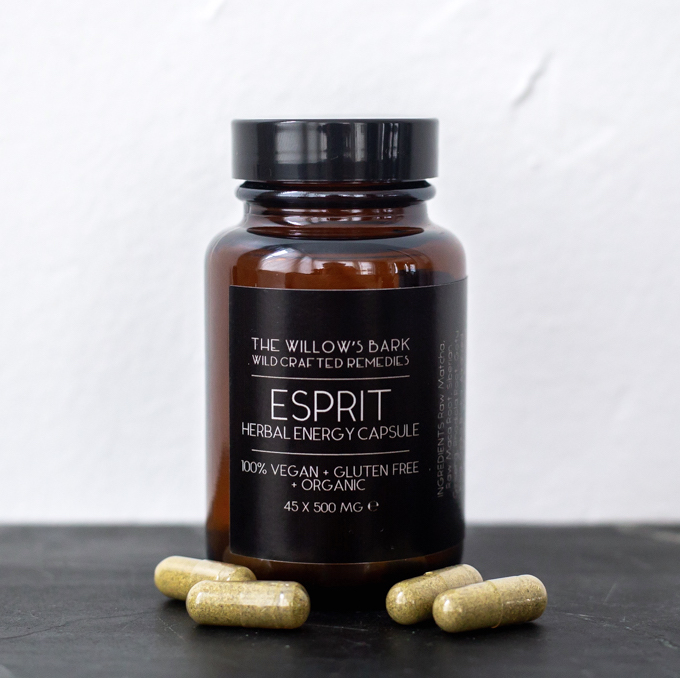 ESPRIT HERBAL ENERGY CAPSULES
Herbal Energy Capsules- 100% certified organic and vegan
500 mg

A blend of wild and organic ingredients to elevate mood, boost immune system, improve memory, increase serotonin and dopamine production, & reduce anxiety while increasing energy.
Capsules make it easy to take, and assimilate the benefits of the Esprit Powder without the hassle of preparation. Take 1-2 capsules in the morning or early afternoon to energize, improve cognitive function, and circulation.

Attributes: antioxidant, anti-inflammatory, cordial, regenerative, vasodilator, cooling, immuno-stimulant, adaptogenic
Ingredients: matcha green tea, gotu kola, ginkgo biloba, eleuthero root (ginseng), rhodiola root, stevia, alkalized cacao, hemp hearts, spirulina

100% organic

Capsule: Pine & poplar cellulose
These statements have not been evaluated by the Food and Drug Administration. This product is not intended to diagnose, treat, cure, or prevent any disease.